VVoted Best Coffee five years in a row for Best of Olympia, Olympia Coffee Roasting Company continues to strive and succeed in making the best coffee. From their beginnings as a downtown wholesale coffee roaster, they have grown not only in locations but inherently with business practices that span from farm to coffee to customer. Awards, recognition and top coffee quality scores are a testament to Olympia Coffee taking the time to invest in and care for its staff, growers and customers. This is how the best coffee is made.
Olympia Coffee Roasting brings coffee culture into the 21st century
Coffee has become an integral part of our daily routine, and coffee drinkers have experimented with different processes, blends, and trends throughout America's history. Dark roasts have been very popular, but at the same time, additional flavors are waiting to be discovered.
"We are bringing to the North West a range of coffees that are a little lighter and a little more flavorful and sweet and avoiding the bitterness of dark roast coffee," Oliver Stormshak, co-owner, president and green coffee buyer for Olympia Coffee said. roasting company. "We know that our customers have grown accustomed to darker roast coffee, so we're giving a nod to that history with blends like our Big Truck Organic, but also some of those lighter roast coffees and fruitier coffees. ."
Part of making such great coffee is developing a relationship with the farmers and pickers on the agricultural side of production. Olympia Coffee got into direct trade ventures when Stormshak was hired in 2009. In 2010, Stormshak and Sam Schroeder, who was the company's first employee, partnered and purchased the business.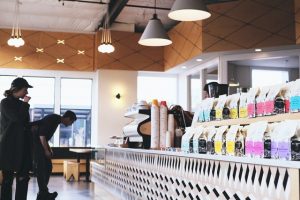 "We were excited about how direct trade developed," Stormshak continues, "but we would visit these farms and find that the people picking the coffee were living in cardboard shacks, not having enough to eat or no education for their children.. We have come up with another initiative which we call Fair for All. It is the idea that everyone involved in coffee growing for Olympia Coffee will benefit. There is a guarantee of a fair pay for the person picking the coffee, not just the farm owner, which is kind of where the direct trade stopped Fair for All is really an insurance policy that everyone benefits There is no child labor There is drinking water There are toilets on the farm.
Mission Cafe Olympia
Olympia Coffee's mission is "to improve the quality of life for farmers and staff by providing quality service to our communities". From this statement, branches of support to farms in countries around the world, company employees and the surrounding neighborhood of each cafe. Becoming a B-Corp, a for-profit corporation, provided a rigorous third-party auditor that communicates that a business does indeed benefit suppliers, employees, customers, the community, and the environment.
Additionally, as a social enterprise, Olympia Coffee's statutes must include workers as well as the environment. They visit farms in person, interview workers, and see that producers provide clean water and toilets for their workers. They are looking for documents showing that the high bonuses they pay are reflected in the payroll of those who produce the coffee.
The 4th Avenue location hosts pop-up events for local businesses to showcase their own products in the community. Olympia Coffee conducts diversity, equity and inclusion self-assessments. Running on 100% green energy and using fully compostable cups are part of their environmental practices.
Even under B-Corp's oversight, Olympia Coffee has established its own Fair for All standards, which result in better compensation, transparency, decent wages, farm worker safety, continuous improvement and the highest quality. The company is also certified as a Living Wage for Coffee employer by Living Wage for US. All coffees from the roasting company are fair for all, and they are the first in their industry to guarantee this.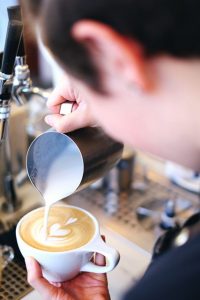 Olympia Coffee Roasting is award-winning and branching out
Industry awards and recognition have resulted in an impressive roster. Olympia Coffee has won the United States Brewers Cup, the Northwest Brewers Cup and the United States Barista Competition more than once. Olympia Coffee is a high-scoring coffee, earning a very high average on the global coffee scene. Professional nods come from industry publications, and the well-deserved list of awards goes on. Greene Realty Group also highlighted Olympia Coffee in one of its community story videos, featuring Stormshak and company insight.
Olympia Coffee branched out after the West Harrison location, including expanding the downtown 4th Avenue space, moving into the South Capital Wildwood, West Seattle and Tacoma building. Each café aims to be a vibrant community space where customers can enjoy freshly roasted coffee, smell the aroma and experience a moment of joy.